About Me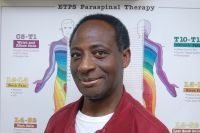 Hello, my name is Hussein Dayo Ahmed, and you can just call me Dayo.
I am a Texas Licensed Massage Therapist, Certified Lypotherapist and Certified Clinical Hypnotherapist. Graduating from Austin School Of Massage Therapy (Dallas Branch) in 1992, I obtained my Texas State license in 1993.
I love people, love healthy living, and offer services to help people become more healthful in both mind and body, including relieving stress and aches and pains. I also love to help people change unwanted habits to postive behaviors. This can include quitting smoking, losing weight, and boosting self esteem and self confidence.
For a more complete bio, including my approach to massage therapy and hypnotherapy, simply give me a call or send me an email.
I look forward to hearing from you.
.